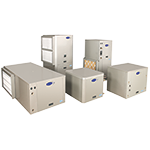 We offer customized geothermal solutions as a certified WaterFurnace GeoPro Master Dealer.
What is Geothermal Heating?
Geothermal heating is an energy efficient way to keep your home or commercial workplace throughout the year. Our WaterFurnace geothermal technology uses the renewable warm energy in the ground around your property, saving you money on your heating investment year after year and providing a clean source of heat.
Our systems work by converting the hot or cool temperature of the earth around your property and efficiently moving it into your home through a ground-source pump. This systems provides quicker and cleaner heat to your house during the winter months and naturally cooled indoor temperatures during the summer.
Why Should You Invest in a Geothermal Heating Solution?
Geothermal systems are extremely energy efficient and great for the environment. The benefits of geothermal heating include reduced overall energy usage, quicker heating and cooling times than traditional air-pump solutions, and they are long lasting.
Although geothermal system solutions are a bit pricier to install on the front end, you can expect up to 25 years' worth of working life for the internal parts of your system, and more than 50 years' of durability for the external pump parts. This means more money saved on maintenance and repair over that time period, under normal circumstances.
We Choose WaterFurnace
Our technicians have installed over 1,000 WaterFurnace geothermal warming systems for satisfied customers. We choose the WaterFurnace brand because they offer the highest quality and most durable equipment in the business. Our commitment to customer service on behalf of WaterFurnace has earned us the GeoPro Master Dealer label, and we're happy to be a part of their business.
Interested in how much money you can save by installing a geothermal heating and cooling system? Try out the official WaterFurnace savings calculator to find out!
All-In-One Geothermal Product Offering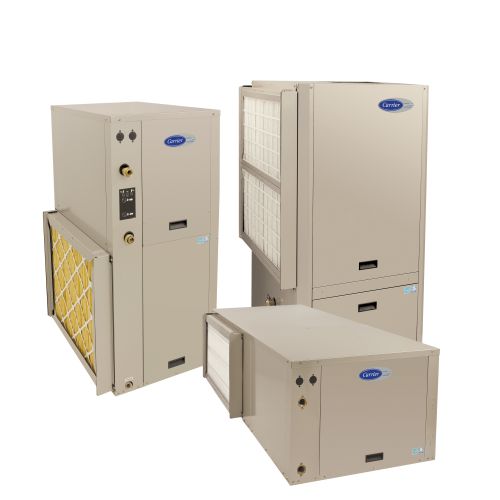 Infinity® Series Geothermal Heat Pump
View Brochure
Model Family: GC
Closed Loop Cooling Efficiency: Up to 30.0 EER
Closed Loop Heating Efficiency: Up to 4.2 COP
Energy Star Rated: ENERGY STAR®
Refrigerant Type: Puron®
Sound Level: Quiet operation
Blower Motor: Variable-speed blower
Compressor: Two-stage compressor
Factory Warranty Parts: 10 year parts limited warranty 5 year labor limited warranty
Factory Warranty Compressor: 10 year parts limited warranty 5 year labor limited warranty
Manufacturer's Stated Benefits:
Open loop cooling: Up to 37.0 EER
Open loop heating Up to 5.2 COP
Summer dehumidification is compressor and blower motor enhanced
Excellent cold weather performance
Sound enhancements: Fully insulated cabinet, compressor blanket and double-isolation compressor mounting system
Microprocessor control board
Recommended control: Infinity control
Optimal humidity and temperature control when managed by the Inifinty Touch control
Large operating temperature range
Corrosion-resistant air coil for long life
Stainless steel drain pan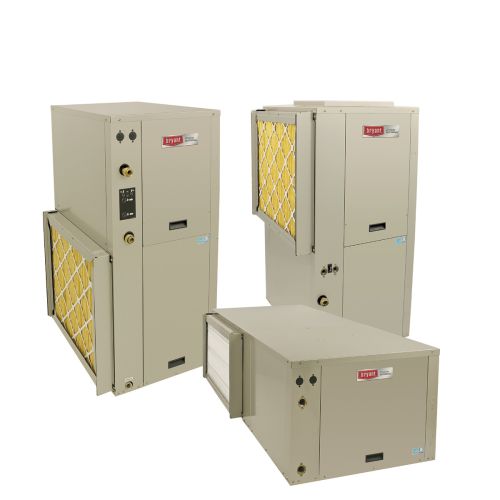 Performance™ Series Geothermal Heat Pump
View Brochure
Model Family: GP
Closed Loop Cooling Efficiency: Up to 24.5 EER
Closed Loop Heating Efficiency: Up to 4.0 COP
Energy Star Rated: ENERGY STAR ®
Refrigerant Type: Puron®
Sound Level: Ultra quiet fan sound levels
Blower Motor: Variable-speed blower motor
Compressor: Two-stage scroll compressor
Factory Warranty Parts: 10-year parts and labor limited warranty upon registration
Factory Warranty Compressor: 10-year parts and labor limited warranty upon registration
Manufacturer's Stated Benefits:
Summer dehumidification is compressor and blower motor enhanced
Excellent cold weather performance
Sound enhancements: Fully insulated cabinet, compressor blanket and double-isolation compressor mounting system
Comfort Alert™ compressor diagnostics
Microprocessor control board
Recommended control: Performance™ Edge® relative humidity thermostat
Heavy-duty, galvanized steel cabinet
Baked on urethane base coat and polyester top coat paint in taupe metallic
Large operating temperature range
Corrosion-resistant air coil for long life
Stainless steel drain pan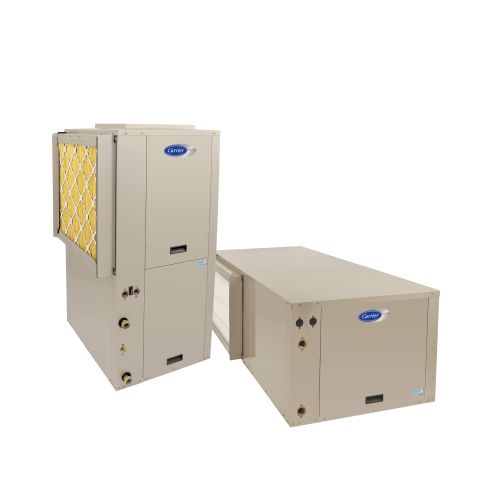 Comfort™ Series Geothermal Heat Pump
View Brochure
Model Family: GB
Closed Loop Cooling Efficiency: Up to 21.7 EER
Closed Loop Heating Efficiency: Up to 4.3 COP
Energy Star Rated: ENERGY STAR ®
Refrigerant Type: Puron®
Sound Level: Quiet operation
Blower Motor: Multi-speed blower
Compressor: Single-stage scroll compressor
Factory Warranty Parts: 10-year all parts and 5-year labor limited warranty upon registration
Factory Warranty Compressor: 10-year all parts and 5-year labor limited warranty upon registration
Manufacturer's Stated Benefits:
Excellent dehumidification and temperature control
Insulated cabinet for quiet operation
Large operating temperature range
Corrosion-resistant air coil for long life
Stainless steel drain pan
Microprocessor control for precision operation